Boppy Newborn Lounger
I have been blessed to be part of a summer baby boom. Between my friends and family, there will be 7 little boys either a few months/weeks older or younger than CBK. I can't wait until his older years when it will be easy to visit my friends with their sons CBK's exact same age. We have a readymade playgroup!
One of the best parts of this group of new mommy peers, is that we can compare and share all the things we are learning or experiencing within the same period of time. When one of us finds a great technique, baby item, or sale we can share this new found knowledge with other moms needing similar things. That was the case with one of my favorite things that I have used nonstop since CBK was 4 weeks old – The Boppy Newborn Lounger.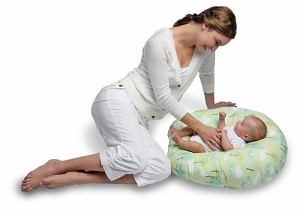 When I saw these in the store before I had CBK, I thought why would anyone need this? Can't they just use a pillow or a blanket and get the same result? My friend, whose son is exactly a week younger than CBK, received this as a baby shower gift and kept singing its praises. Her son was in it often and it was a great alternative to a bouncer or swing, which he was not always willing to stay in very long. One day I opened the mail, and being the great friend and Godmother that she is, there was a newborn lounger for CBK. It was the perfect thing for him to sit in when awake and we love it. I know it seems like a unnecessary extra but here are a few reasons why I Love Love Love it:
Its the perfect Take-A-Long for visiting others. Have a trip to your girlfriend an hour away and can't bring a bouncer or other item to place the baby in while you chat? This is the perfect alternative to a blanket on the floor. It won't take up a ton of room or be difficult to breakdown like a bouncer or swing but it provides more padding and comfort than a blanket on the floor. Which leads to reason 2…
 That extra padding seems to make it more comfortable for babies. When I place CBK on a blanket on the floor he quickly stretches his arms out and looks at me like I am crazy. When I place CBK in the newborn lounger he will spend much more time cooing, playing and calmly relaxing. Of course he spends time on his activity mat to help with his development and for tummy time, but for moments when he is just relaxing and awake, this is a much better option than just a blanket or mat on the floor.
You can use it up to 16 lbs which could be 5 or 6 months. One of the crazy things about newborns, is how fast they grow out of things. I feel like I am constantly packing up barely used items to give away to my friends that have a slightly younger child. So when I find something that will last at least 6 months it seems like an eternity. For around $30 and for

the amount of use it gets, this is a more than worthwhile investment. If you have it and begin using it soon after returning home from the hospital it will quickly become a staple in your everyday interaction with your child for several months.

Its perfect for even the smallest newborns. Often if you try to place a newborn in a swing or bouncer (Even with the newborn inserts) they are slumped over since their necks aren't strong and their bodies are so tiny. This lounger perfectly conforms to their little bodies, keeping their necks and heads in place.
Another place for sleeping (*Not the recommended or intended use, and actually contrary to all of the warnings on the Boppy) I quickly learned as a new mom that contrary to everything I read, the bassinet and other "bed-like" items were not always the places my son slept the best. I will admit that he spent more than one night in his bouncer, sleeping on me or in his Boppy Newborn Lounger. Most often this occurred during the day when I was awake but once you figure out a way to get your child to sleep, you will go with it day, night or otherwise. Many of my friends that own this pillow have noted, that it can be great for naps in the day when the baby is near you and unable to roll or move too much in those early months.
The Boppy Newborn Lounger is a definite MMH and a surprising thing I Love Love Love. It seems like it would be an unnecessary extra that might take up space unused in your closet,  but that is the farthest thing from reality. We use it every single day. Happy Lounging!